Online review sites such as Google, Yelp, and Facebook give consumers a voice regarding their experiences with a business. This helps give feedback to the business, and an idea of what to expect for other consumers and their friends. Sometimes this feedback is positive, sometimes negative. What should a business do when faced with some negative feedback or negative reviews?
According to reviewtrackers.com:
94% of consumers say that a bad review has convinced them to avoid a business.
53% of customers expect businesses to respond to negative reviews within a week. But 63% say that a business has never responded to their review.
45% of consumers say they're more likely to visit a business that responds to negative reviews.
What does this mean? The quicker you respond to your reviews, both positive and negative, helps your overall image for future customers.
How to Respond
We've established that it's important to respond to negative reviews, and in a timely manner. Another point to keep in mind is ensuring you stay calm in your response. Retaliating or lashing out at the customer will not help your image for other potential customers. This might not be the easiest task — negative reviews can hurt.
Take a minute after reading the review to take a breath, then try to put yourself in that person's shoes, not literally of course. Be as understanding as possible and try to take the feedback as constructively as possible.
Here's an example:
Dear [Name of Reviewer], thanks for sharing your feedback. We're sorry your experience didn't match your expectations. It was an uncommon instance and we'll do better in the future.
Please feel free to reach out to [Contact Info] with any further comments, concerns, or suggestions you wish to share. We would love to make things right if you give us another chance.
Of course, the way you respond should vary given the situation and exactly what is in the review, but the above is a template that could be used and adjusted as necessary.
The 7 Simple Steps to Negative Reviews
Address them individually — make sure you use their first name in your response. It allows them to truly know you're talking to them and not copying and pasting a response that you give to everyone.
Thank the reviewer for their feedback — they took the time to tell you about a situation, and part of them simply wants you to hear what they have to say.
Apologize — show them you're not too proud to hear criticism and that you are sorry that a bad situation happened to them.
Take responsibility — Don't make excuses, even if what happened is far from normal, acknowledge that it did happen to them and that it is regrettable.
Make things right — If you can, fix the situation. If there's not an easy fix, apologize and promise to do better in the future.
Take the issue offline — invite them to contact a customer service line so they can be helped directly regarding their situation.
Ask for a second chance — invite them to come back again where you promise things will be better.
Here is a real-life example of how a business has handled negative reviews.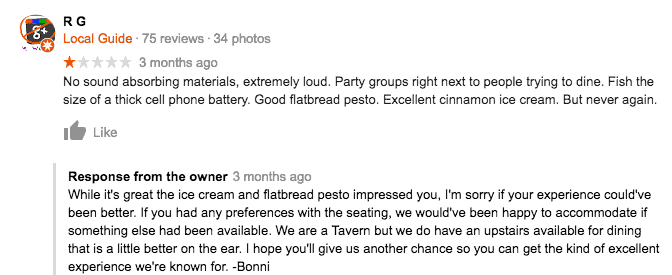 With these steps in mind, we hope you respond to each review you receive, both positive and negative to ensure your customers know you listen.